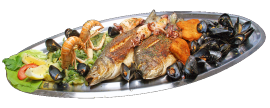 In the name of our entire staff, we welcome you gladly to the Pansion Comfort Sidro.

We are located at the entrance to Novalja - tourist center of one of the biggest Adriatic islands, the island famous for its excellent goat cheese and lamb. Nearby, just 1000m away from our hotel, You can visit far more famous Zrce beach, which is the most beautiful and most attractive beach in Novalja. With its large sand and pebble surface, it offers a variety of sports, recreation and entertainment 24 hours a day .With clubbing and party in mind, we certainly need to pinpoint Papaya, Aquarious or Calypso, as clubs with extensive range of participation of world famous DJ's and various music festivals throughout the summer season. But,if You like more peaceful and quiet places, beaches with nearby park for children to play, beautiful tree shades and green grass to lay on, while looking at sky blue Sea,its just 250 meters from our hotel,on opposite side of islands discotheques, clubs and partys.Feel free and surrender to the Mediterranean climate in our comfortable rooms and enjoy the rich variety of delicious dishes and specialties in our restaurant, prepared in the cousine by local recipes. For peace of mind use the hotel's safety deposit box at reception. There are lots of secure parking spaces to keep your car safe. Our cost-free hotel parking is available around the clock. All the rooms in our handsome hotel have air conditioning. There is fast internet access in every fetchingly furnished hotel room. We enjoy great trust of our guests who are returning to us, and if you decide to visit us, we will do everything to make your vacation an unforgettable adventure.Our friendly staff is looking forward to your time with us!
INFO
: 50 m
: 250 m
Zrće: 1 km
: 250 m
: 250 m

LED TV/SAT, Mini Bar

Wifi internet,
Restaurant
Online Booking


Pag

12 °C
15 °C
Pansion Comfort Sidro
Gordana Pavić
Gajac - Braničevica 9
53291 Novalja,
Tel.
00385 (0)53 684 723
Fax.
00385 (0)53 684 464
Gsm.
00385 (0)98 214 149
Gsm.
00385 (0)98 95 888 75
www.novalja-sidro.com